Web API Initiative for 3D, Project Management, Collaboration uses OAuth 2 for Secure Authentication
Sunnyvale, CA - October 30, 2012 - VisPower Technology, Inc, the developer of the leading Web-based collaboration application TeamPlatform, announces the release of its API (Application Programming Interface) which is now available for any team account familiar with programming.

"Opening TeamPlatform's API offers a great opportunity for our users to integrate TeamPlatform workspaces into their Web site, 3D application, PDM, billing system, CRM or any other enterprise system,\" said Simon Bae, CEO of Vispower Technologies. \"TeamPlatform\'s versatile workspaces are used to manage projects, files, 3D data, tasks, markup, and notes. The new set of API's can read, write and update TeamPlatform workspaces, user profiles, and user groups. End users can now automate workflows by interweaving TeamPlatform and their enterprise applications through the API. The API empowers 3rd party developers to develop add-on\'s combining TeamPlatform with powerful desktop applications like SolidWorks or mobile devices like the iPhone 5," added Simon Bae.
TeamPlatform API is RESTful, uses JSON for serialization, and OAuth 2 for authentication. Chunk-by-chunk file upload support allows virtually unlimited file-size uploads which is important in large 3D Designs, CAD assemblies, 3D Scans, 3D Print Models, or Animations and Videos. Once uploaded to a TeamPlatform workspace, the files are automatically processed making them compatible for viewing, search and sharing on the web. Full text search across workspaces, comments, files, pages and tasks is supported by the API. Searching for CAD or 3D files with the API returns file thumbnail images and file meta-data from matched CAD and 3D models.
The API is suited for any development environment including C++, C#, VB, VBA (Visual Basic for Applications), Ruby, Java, javascript or mobile app development platforms such as iOS or Android. Complete documentation includes Authentication, Put, Get and Return codes and a quick-start C# example and is available here:
https://github.com/vispower/teamplatform-api
About TeamPlatform
TeamPlatform enhances business collaboration between 3D professionals in the world's CAD, Engineering and Manufacturing companies by providing private, on-demand access to secure web-based platforms which enable a new and better way to work together on projects and 3D data.
Featured Product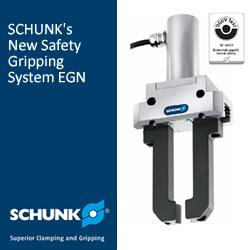 Powerball Lightweight Arm LWA 4.6, 6-Axes-Lightweight Roboter for mobile Handling. Maneuverable, powerful and high-precision The Powerball concept from SCHUNK, the competence leader for clamping technology and gripping systems, takes another step forward: With the Powerball-Lightweightarm LWA 4.6, the pioneer of modular robotics presents an especially compact and flexible aid for stationary and mobile applications in service robotics and industrial handling. The powerful lightweight module from the innovative family-owned company features a weight/payload ratio of 2:1 and is one of the most high-power lightweight arms in the world. At a dead weight of 12 kg, it can dynamically handle loads of up to 6 kg, and has a gripping radius of more than 700 mm.